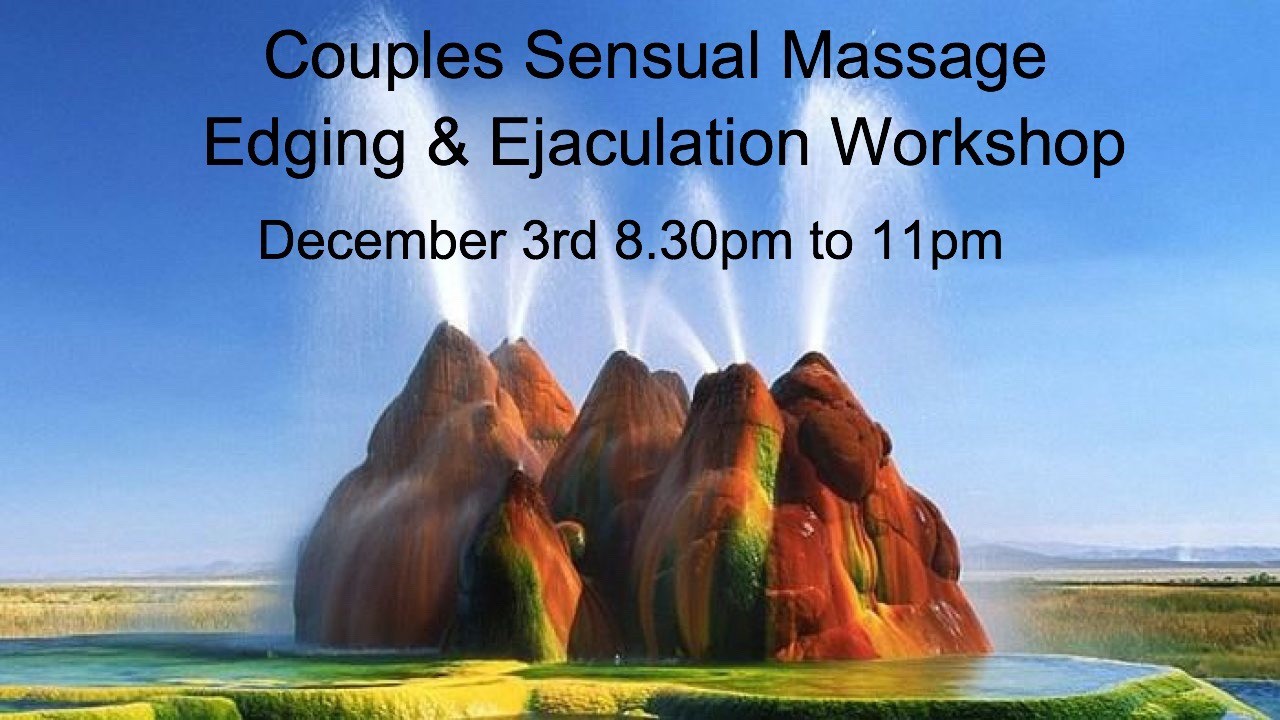 (This workshop is two and half hours in duration)
Date – December 3rd 8.30pm to 11pm
Some places still available
This unique workshop focusses on two aspects of sexual exploration that are increasingly being seen as the nirvana of fulfillment, that is female ejaculation and edging the male to orgasm.
This workshop is open to couples in a relationship or coming as good friends
Female Ejaculation
Curiously until recently, the female ejaculation was seen almost like a myth and that it was only the rare woman that could experience this. This is not so. In the past 5 years, I have given sensual massage to over 400 women and in that time I have discovered that given the right emotional and physiological circumstances most women are able to ejaculate (squirt) and that it is probably a natural phenomenon that has a very relevant role in the female sexual process and is achievable in the right circumstances by most women.
Women who have experienced this often describe the feeling as immensely releasing and that it produces a feeling that is different from both the clitoral and vaginal orgasm. In this workshop, I teach male partners to prepare their female and then use particular techniques and positions that can help their female partners achieve ejaculation, not just once but sometimes several times.
Edging
In the male, the ejaculation and orgasm appear to be as one but in fact, are two different mechanisms that mostly occur together hence the feeling of simultaneous orgasmic ejaculation. Additionally, the male is designed to become aroused erect and ejaculate in around 15 minutes and so learning to edge a man can take him to places that he rarely goes. Not only to be able to create the suspense of almost orgasm but also to be able to incorporate other elements that can excite him that may include [prostate massage and mild dominant play to gradually build him to an explosive orgasm.
In this 3 hour workshop  In the first half of the workshop I first teach the couples to slowly bring on arousal by starting with a sensual massage to relax and stimulate the body and the mind. During this I demonstrate special techniques to edge the man and how to give a proper vaginal massage designed to build her to ejaculation. The second haul of the workshops the couple practice the new techniques on their partners with me guiding.
8 pm – Part 1 – Starting with a welcome glass of prosecco and introductions Colin talks about the physiology and psychology of arousal.
8.20 pm – Part 2 – Colin gives 20 minutes a practical demonstration of edging a man and bringing a female to ejaculation. The demonstration is given on a male and a female volunteer.
8.45 pm – Part 3 – Couples follow his example practicing on one another partner to partner with Colin's guidance.
9.45 pm – 15-minute break
9.45 pm to 10.30 pm – Part 4 – In this 45-minute session couples can put into practice what they have learned but this time in the more gentler atmosphere with low light and music with Colin just guiding if required.
10.30 pm to 10.50 – OPTIONAL PLAY TIME For the last 20 minutes couples can swop partners or join in as a group (mutual consent must be agreed)
10.50pm – 11pm – Shower and depart
Due to the explicit nature of this workshop if you wish further details on the content of parts 2 & 3 to this workshop, please call Colin on 07966 522 696 or email him your questions. Colin@intimacymatters.co.uk
Maximum attendance is 6 couples
Approximate age range – 21 to 50
Location – Intimacy Matters venue London Bridge SE1 4QS
Price is £150 per couple
Enquiries or questions – email colin@intimacymatters.co.uk 
Or call Colin on 07966 522 696
Booking your place
Complete the Registration Form