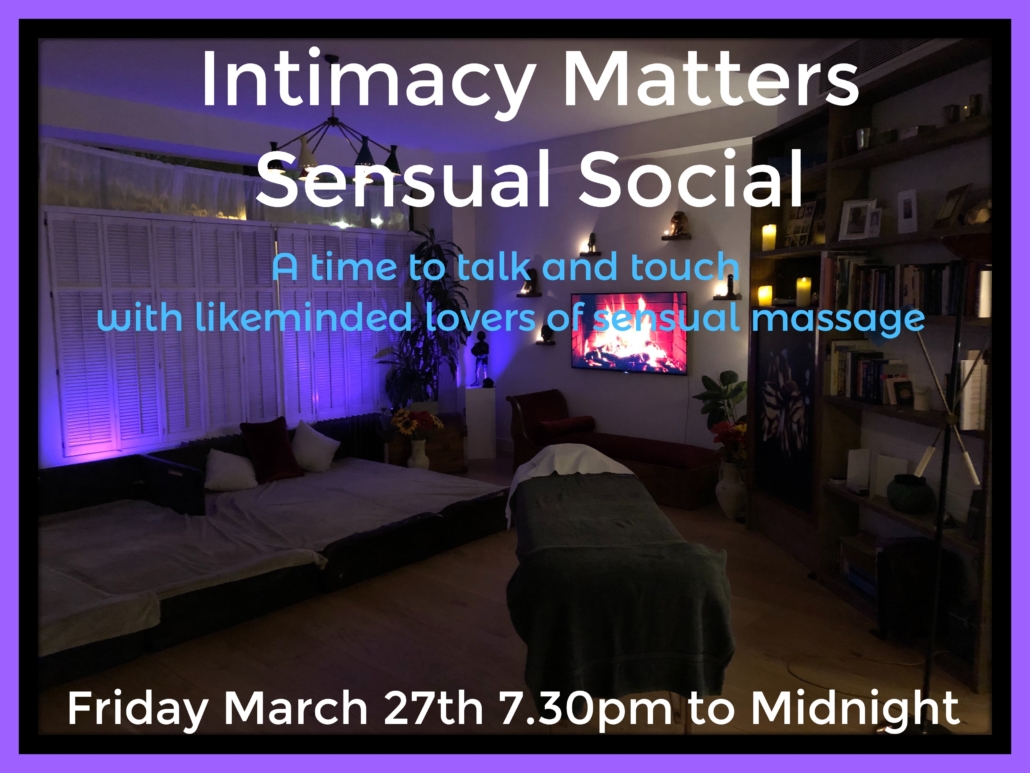 At the moment this event is still going ahead. If you do book your ticket and then have to cancel or the event is cancelled your money can either be refunded or transferred to another date later in the year
An evening for likeminded lovers of sensual massage and intimate foreplay to meet, chat and mingle, and to practice their skills and natural talents.
'Thank you very much for such a wonderful evening. It was enlightening for us and we felt very relaxed and just lovely!'
The Intimacy Matters Sensual  Social is a relaxed get-together for couples, single girls and a few lucky single guys to explore and practice their learned sensual arousal skills and love of sensual massage, in the relaxed environment of Colin's private apartment in London Bridge.
You are welcome to come along and just chat and enjoy a glass of prosecco meeting others of a similar sensual mindset. For those keen to practice their skills or who like to receive a sensual massage there will be several massage beds available in the main reception room. For those who want to be away from the crowd there is also a more intimate massage playroom.
Admission is restricted to those who have taken part in either a past group or private workshop or acted as a volunteer receiver at a workshop. Or couples (at least one of the couple) and female clients who have been to Colin for a treatment or workshop.
The evening is open to exploring both two hands and four hands with mixed or same-gender combinations. Just make clear your gender preferences and personal boundaries.
Places are limited to 40 persons (male and female in equal numbers)
Qualification to attend the Social
Single Women & Couples – Single women and couples are most welcome but to qualify you must have attended a workshop (group or private) with Colin or you have been a volunteer receiver at a workshop or at least one of the couple to have seen Colin for an appointment.
Single Men – You can only attend an IMSS event if you have taken part in a workshop as a giver or a volunteer receiver. To keep the numbers of male/female in attendance in balance tickets for single men are allocated as single females book their tickets. Tickets not on sale to single men yet but you can register your interest by emailing Colin at colin@intimacymatters.co.uk
To make an enquiry 
Email Colin colin@intimacymatters.co.uk
Or call Colin or Whats App him on 07966 522 696
Tickets for the event include welcome drinks on arrival soft and hot beverages all night and light nibbles, provision of oils for the massage and shower facilities. You are welcome to bring your own bottle of wine, fizz or beer.
Bookings
Tickets for couples and single females on sale now scroll to bottom of page
Couples and single women
£50 – couple
£25 – single female
Single men
Tickets not on sale yet but you can register your interest by emailing Colin at colin@intimacymatters.co.uk
£45  – single male ( not on sale yet )
Location – Intimacy Matters London Bridge SE1 4QS
Mark and I had a fabulous time last night.
Jo and I had a great time and I particularly enjoyed my attention towards the end of the evening!

It was a great evening!! Really enjoyed it.  We are keen to make the next one! 
It was also a great forum to meet like minded people. We hope that you may do again.
Amazing venue and it was great to see everyone so relaxed and at ease with their sensuality. We decided to remain as voyeurs as it was our first event like this as couple, but we have not stopped talking about it since. Also seeing some of the techniques and pleasure being given was enlightening and great to practice later on one another at home. We will defiantly come to your next social.