3 Hour Sensual Massage Evening Group Workshops
Hosted By Colin Richards for Killing Kittens
Colin is the designated Sex & Relationship advisor and teacher for members of Adult Lifestyle Company Killing Kittens and he regularly runs group workshops for men, women and couples as well as giving talks and taking part in their celabratory events as resident masseur
The group workshops he runs for KK are run in a similar format to his own group workshops except they are three hours in duration rather than four. Split into the Foundation & Intermediate these workshops which are primarily but not exclusively promoted to the KK membership are designed to be informative, experiential and fun.  Depending on numbers taking part, attendees usually work in pairs or couples and practise on one volunteer per pair/couple. They are usually run on either weekends or mid week evenings.
Sensual massage events and parties
Once trained in giving sensual massage an attendee to these workshops you are invited to join the Intimacy X Club and exclusive KIK Chat group where you can meet and socialise with the like-minded lovers or sensual massage and to share your skills and knowledge with one-another and be invited to periodic Intimacy X sensual massage events and parties.
Check out below the next dates and details of these forthcoming group workshops by clicking on the respective links below.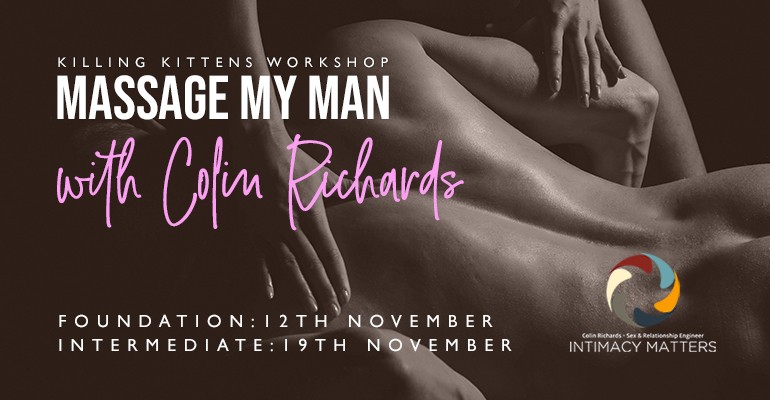 Massage My Man KK Group Workshop – For Women Who Like Men – Ladies Only or a Girls Night Out social evening for 2 to 6 female guests, where fun and frivolity can be had whilst learning the ups and downs and ins and outs of male sexuality and what men like. Hear what men really enjoy and learn how to give your man an expert sensual massage. Specially selected male volunteers will be available to practise on.
Massage My Woman KK Group Workshop – For Men Who Like Women – A relaxed, sociable and sensual evening for 2 to 6 men. Whether you are straight or bisexual this is for the man who wants to learn a deeper understanding of the female arousal process and master techniques of extended erotic foreplay by learning to give a sensual massage to a woman.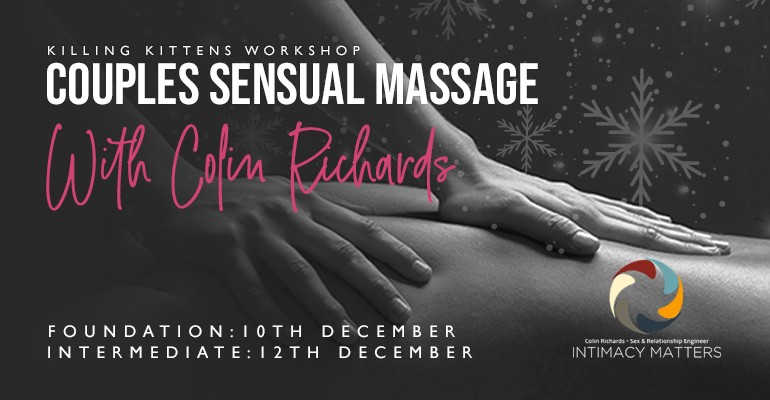 Couples Sensual Massage KK Workshop –  This workshop is designed for like-minded couples to explore mutual sensuality in a safe and sophisticated environment. Ideal for the couple who is exploring their sexuality for the first time. Maximum numbers are 3 couples.
Sensual Sister for Women who like Women – A series of unique sensual massage workshops for women who want to increase their confidence and abilities in giving pleasure to other women.
---
Register to receive workshop and event updates
Keep up to date with all of Colin's workshops
Select and complete the relevant registration form below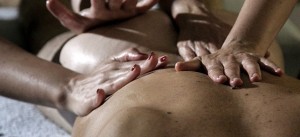 Register to be a volunteer receiver
For a Private workshop or a KK or IM group workshop
To learn more Click here