Sensual Massage Private Classes
For Bisexual & Gay Men giving to Men
Buy Now Pay Later  – Take 6 weeks to pay for the treatment of your choice. 
These Touch & Turn On Classes teach men how to give an expert sensual massage to other men incorporating erotic techniques for enhanced arousal and sensation. Practice is given on live male volunteer receivers.
The 2.5 hour Experiential, 5 hour Foundation and the 10 hour Intermediate classes are ideal for men wanting to enhance personal relationships.
The 20 hour Professional training is an excellent training for men who want to give sensual massage as a part or full time career.
Classes can be booked any time between 9.30am and 10pm most days of the week and are usually broken down into 5 hour sessions on separate days but can also be split to suit.
Read on to learn what each class includes and is best for you.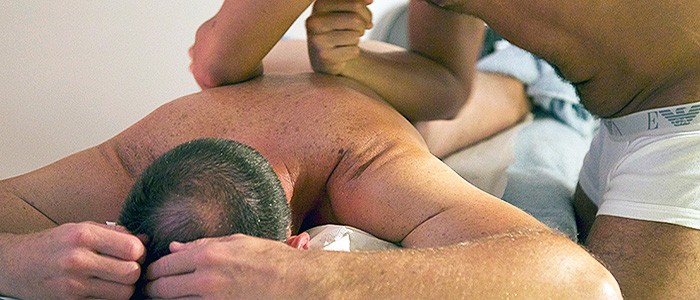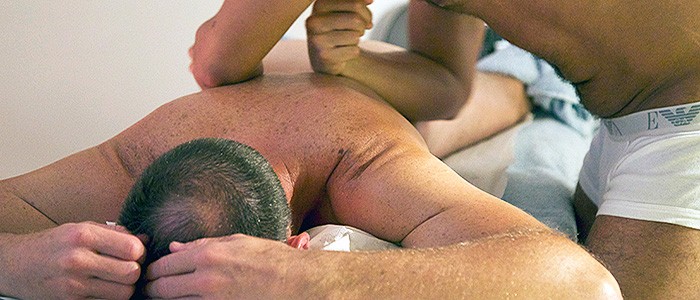 ---
No 53. The Experiential Massage Practice – 2.5 hours
Explore and enjoy giving with Colin
Male giving to one male volunteer – £265
Male giving to male partner – £225
This workshop is designed for those who want to explore what it is like to give a sensual massage to another person but to give it with the guidance of an expert as a four hands massage. On booking, I find out what it is you particularly want to explore in the massage practice. Then I find a volunteer to suit you and arrange a mutually convenient time for the practice. On the day we start by having a brief chat to understand how the volunteer 'receiver' likes to enjoy the massage. Then once they are settled on the massage bed, we work together with you following my lead. The intention is to create a sensual experience rather than learn specific massage techniques. Simply by giving a massage in this way, you will not only enjoy the pleasure of giving but also learn some essential aspects of giving an expert sensual massage. You can remain clothed or be naked when giving the massage.
Click here to apply for a Touch & Turn ON course
---

---
No 54. The Foundation Class (5 hours)
Learning enhanced foreplay skills
The 5-hour workshop is ideal as a taster or for those wanting to just enjoy giving a massage to another man under instruction. The student gives one massage with Colin to a volunteer receiver then either receive a massage themselves (sensual or therapeutic) from Colin or can give to a second male volunteer. The workshop can be booked at the times below or specific times if agreed in advance. Practice is give on two separate male volunteer receivers in 2 x 90 minute practice massage sessions.
Option 1 – Practice on one male volunteer plus a massage for yourself given by Colin- £395
Option 2 – Practice on two separate male volunteers (does not include a massage for yourself) – £495
Click here to apply for a Touch & Turn ON course
---
---
No 55. The Intermediate Class (10 hours)
Developing erotic stimulation
Training includes:-
The 5 hours – Foundation training
The 5 hours – Intermediate training
Expanding and improving your sex life
The level 2 workshop is ideal for the man who wants to learn how to give a sensual massage for personal use and to boost his confidence when with other men. The workshop includes three practice sessions on three separate male volunteers and then receiving your own massage at the end of the workshop given by Colin. Times can be adjusted to suit you or split into two half days/evenings.
In this workshop you will:
learn to give a full body sensual massage to another man
learn to tease and play with his body and senses to bring on slow arousal
learn how to edge him along the precipice of orgasm
learn how to give a proficient prostate massage
learn how to use your body as a massage tool
Option 1 – Practice on three separate male volunteers plus a 90 minute massage for yourself- £575
Option 2 – Practice on four separate male volunteers (does not include the massage for yourself) – £675
Click here to apply for a Touch & Turn ON course
---

---
No 56. The Professional Training – (20 hours)
 Advanced 2 and 4 hands erotic massage training plus business set up
Training incorporates:-
The 5 hours – Foundation training
The 5 hours – Intermediate training
An additional 10 hours –  Additional professional training
This course is specifically designed for those who want a career as a professional sensual therapist. Whether it is to work part-time or full-time, the knowledge you will take from this workshop can immediately launch you into a career that could potentially earn you upwards of £4000 ($6000) a month as a full-time practitioner.
The training includes:
10-12 hours of guided massage sessions practising on male (fit, healthy-bodied) volunteer receivers to include specific teaching on sensual and erotic arousal, prolonging/maximising orgasm, heightening intimacy by using body to body techniques and creating confident sensual touch.
Learning to give a 4 hands massage.
Greater awareness of erotic zones of the body.
Prostate massage, genital massage, scrotum massage, edging orgasm, managing premature ejaculation and erectile dysfunction.
3 hours of theory on the psychological and emotional aspects of giving a sensual massage.
3 hours on researching target markets, client management, business set-up, branding and marketing.
6 months of telephone support following your workshop, providing further advice and guidance.
A year's access to 40 hours of sensual massage video tutorials and other tutorials covering aspects of sexual intimacy.
6 months of free promotion on the Intimate Tutorials website if requested.
The course can be split into 2 sessions of 10 hours or 4 sessions of 5 hours and can be taken during the daytime from 9.30 am or evenings up to 10 pm.
Qualifications to take this professional training with Colin:
Ideally, 1 year's experience giving sensual massage regularly as either an enthusiastic amateur or part-time professional or you have taken the Experiential or  Foundations class or taken part in a group workshop with Colin.
Option 1 – Practice on five volunteer receivers plus a massage for yourself given by Colin- £995
Option 2 – Practice on six male receivers (does not include a massage for yourself)  – £1095
Booking your class
Please complete the application form at this link below or use this Enquiry form for questions
Click here to apply for a Touch & Turn ON course
Deposit
Which ever class you chose you will be requited top pay a 50% deposit once your dates of the class have been confirmed. This is so that i can go ahead and arrange the volunter receivers for your class. Payment can be made via bank transfer or pay pal.
In the event of cancellation.
up to 7 days before – full refund or transfer to another date.
within 7 days and 24 hours 25% retained 75% refunded or transferred to new date.
within 24 hours 50% refunded or transferred to another date.
No show – full deposit is retained.
Payments Plans
To help I offer various instalment plans that enable you to spread your payments over 6 weeks or by special arrangement 3 – 6 months. [Click here]
Massage for yourself
In the Foundation, Intermediate & Professional classes the Option 1 choice includes a sensual massage for yourself within the class cost. If you want to select an Option 2 class so you can practice on the most male volunteers and you want a massage from Colin, this can be given separately at an alternative time at a 50% reduction on normal prices ie 90 minutes full body massage would be £100
---