The Massage My Man Experiential Sessions
The Experiential Session is for women who want to experience giving a sensual massage to a man but to give it with the guidance of an expert as a four-hand massage.
---
 Give a 90-minute four-hand massage with Colin to your partner or a male volunteer receiver.
Option 1 – £300 – Female giving to a male partner
Option 2 – £350 – Female giving to a male volunteer
Reasons often given for taking the Experiential Session are:
Curiosity & Exploration
Introduction to sensual massage to maybe go on to take a Foundation, Intermediate Class or Professional Training
Thinking of giving sensual massage professionally
I want to surprise my partner with new skills
Just for fun!
After your initial enquiry or completion of the application form, I will contact you to determine what you want to explore in giving the massage practice. Once you have explained your motivation and expectations for this experience, we will set a date and time (allow 2.5 hours), and then either I will arrange a male volunteer receiver to suit you, or you can bring your own receiver who maybe a partner or a friend you are intimate with.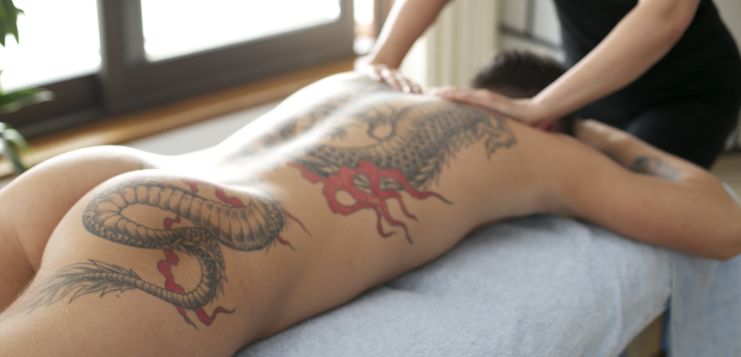 On the day of the session, we briefly chat to understand how the volunteer 'receiver' likes to enjoy the massage. I then take 15 minutes to teach you some standard massage strokes for the back, legs, buttocks and shoulders.  Once you feel confident and at ease and the volunteer relaxes, we start the four-hands massage. We work together with you following my lead. The intention is to create a sensually enjoyable experience for the receiver and yourself rather than learn specific massage techniques.
Simply by giving a sensual massage this way, you will enjoy the pleasure of giving and observing some essential aspects of a sensual massage first-hand. The massage will include full body arousal, genital massage, edging to orgasm, bringing to ejaculation and prostate massage ( optional). You can remain clothed or be naked when giving the massage. If there are specific aspects you want to include in the massage, then let me know, and we can incorporate this into the session – for example, light spanking or domination.
The massage session will include:-
Traditional therapeutic massage techniques
Teasing intimate touch
Body-to-body caring touch
Testicle touch
Using nails and fingertip teasing
Body-to-body slide
Genital massage
Masturbation tecniques
Edging to orgasm
Application Form