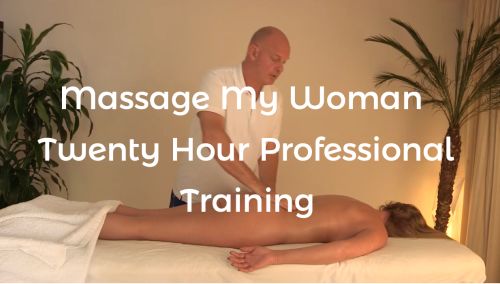 The 25-Hour
Massage My Woman Professional Trianing
3-hour Induction class, 6-hour Foundation class, and 6-hour Intermediate class
& 10 Hours Professional Training 
---
This complete combined training is ideal for the man who wants to give sensual massage to women as a part-time or full-time profession.
This 23-hour training incorporates:-
The 3-hour induction class
If, after taking the induction class, you are confident that you can realistically take on a part-time or full-time career as a sensual masseur for women, then you can progress to take the next fifteen hours of training.
The 5 hours of the foundation class

The 5 hours of the intermediate class

A further 10 hours of additional sensual massage training includes business set-up marketing, branding, and ongoing business support.
Sessions are usually split over 1 x 3-hour and 4 x 5-hour sessions; however, alternative time frames are possible and must be taken and completed within three months.
This professional training is designed for those men who want a career as professional sensual massage therapists given to female clients. Whether to work part-time or full-time, the knowledge you will take from this course can immediately launch you into a career that can earn upwards of £4000 ($6000) a month as a full-time practitioner. You will become skilled in giving a 90-minute full-body sensual massage to a variety of female types and understand the many and varied motivations of women who want to experience sensual massage. 
---
The 3-hour Induction Class
---
To qualify for the 20-hour professional training, you must first attend a 3-hour induction class at a stand-alone price of £300
The purpose of this class is for me to hear your motivation for wanting to embark on a career as a part or full-time sensual masseur for women and for me to explain the complexities and responsibilities of working in this capacity. It also inside you giving a sensual massage with me to a female volunteer receiver. 
It is important that you understand what is required to be a successful professional sensual for women, and to learn about their motivations for taking this intimate treatment. We also discuss your budget and costs and time scale of making your practice financially successful.
After taking the Induction class, I will either invite you to continue to take the Professional Training or, on some occasions, I may feel you are better suited to begin by taking the 6-hour Foundation Class and build up to the Professional Training over a more extended time frame.
In this Induction class, you will 
Explain your motivation & ambitions.

Tell me about any massage experience or experience relating to supporting people.

Describe your current relationship situation and how you see this working alongside this intimate work.

Describe current or planned future living/working arrangements for giving sensual massage as a professional therapist.

Discuss your health and emotional well-being for this role. This will involve discussing your upbringing and parental and family relationships when you are young. 

Discuss any concerns and ask questions about the training and ongoing business set-up.

Watch and take part in giving a 75-minute full-body sensual massage to a female volunteer receiver.
Assessment
Taking this induction class does not guarantee that you will be accepted to the professional training. It may be that after the induction, I believe you need more time to consider the decision before committing to the time and cost. I may recommend you start by taking a stand 2 x 3-hour Foundation Class and maybe follow on with the 2 x 3-hour Intermediate Class and then return at a future date for a further ten hours of the 2 x 5-hour professional training classes.
---
The 20-Hour Combined Professional Training
---
Class 1 – Foundation Class
In the 5-hour Foundation class, you will learn:-
Learn about the biology and anthropology of female and male sexuality and how it relates to sensual massage.

Receive an introduction to the psychology of female arousal and how it relates to physiological arousal.

Give a full-body sensual massage with therapeutic, sensual and erotic techniques.

To encourage slow seductive arousal by stimulating her mind by touching the sensitive non-erotic areas of the female body.

To give breast and nipple massage

To give buttock and upper thigh massage

To master clitoral stimulation

To explore external vaginal stimulation

And observe via a demonstration of internal vaginal massage

And observe via a demonstration of female ejaculation techniques

To practice various positions to give clitoral stimulation

To edge her towards multiple clitoral orgasms

Bullet point guidance sheet provided
---
Class 2 – Intermediate Class
In the 5-hour Intermediate class, you will learn
Additional therapeutic strokes

External anal stimulation

Internal anal stimulation ( optional)

Therapeutic internal vaginal massage

G Spot stimulation

Body-on-body massage ( given naked )

Assertive vaginal stimulation top & side positions

Techniques to encourage female ejaculation

Incorporating sex toys

Positions for oral stimulation ( demonstrated, not given )

Bondasage techniques ( dominant, i.e. spanking, restrictive holds)

D Spot stimulation ( rear of the vagina )
---
Class 3 – Part one of the Professional training
A further five hours in which you will give two more practice massages on two separate female receivers, repeating all you have learned so far  (or male receivers if required).  The student gives most of the practice sessions, with Colin guiding and stepping in only when needed or reminding you of the techniques.
---
Class 4  – Part two of the Professional training
2.5 hours of business training and final practice massage
Setting up your treatment space

Insurance, confidentiality and security implementation

Creating your brand and image

Booking procedures and security

Insurance

Researching target markets, client management, business set-up, and productive cost-effective marketing.

Six months of telephone support providing further ongoing advice and guidance

Certificate of completion
Final practice massage
This is given by you to the female receiver on your own, with Colin observing, or if you have selected it, your massage is given to you by Colin.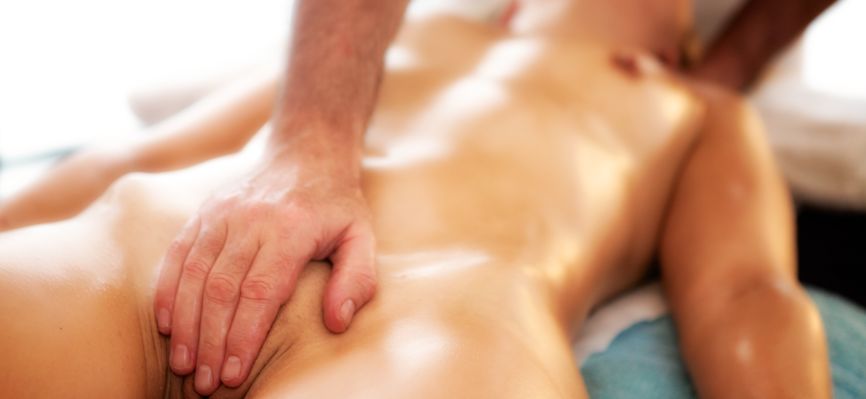 Option 3 only
For an additional £100, an optional refresher session can be given to a female or male volunteer at the discounted price of £100

Option to have your massage filmed for free and promoted to the 10,000  subscribers to the Intimate Tutorials, Intimacy Matters & Sensual Massage Movies network
Application Form
To apply to take Professional Training  – Click here
The application does not mean you are making a booking. It gives me details of yourself and your motivation to take this session. Once your registration form is received, I will contact you back to discuss your motivations and expectations for the Professional Training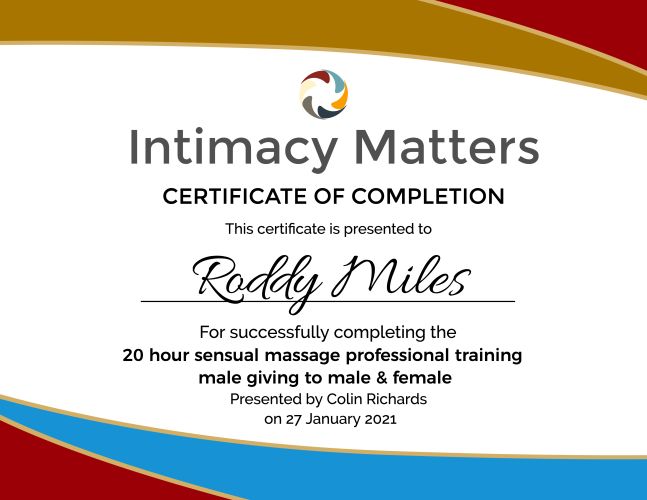 Dates of class and time limits for taking the classes.
Classes for Professional training can be spread over a period but must be completed within twelve weeks of the first class date.
If the training is not completed within this period, the remaining time is forfeited, and there is no refund. 
When can I take a class?
The Induction session is three hours, and the Foundation Interdemate and Professional classes are held in 2 x 5-hour sessions unless arranged differently with mutual agreement
Monday to Friday 5-hour sessions are usually either:-
10 am to 3 pm

1 pm to 6 pm

5 pm to 10 pm
Saturday 5-hour sessions
10 am to 3 pm

Noon to 5 pm
Over what period can I spread my classes?
Combined Foundation & Intermediate 2 x 5 hours must be completed within six weeks

Professional Training 4 x 5 hours must be completed within twelve weeks.
Frequency of classes
The ten and twenty-hour classes involve intensive learning and massage practice.  Therefore it is important to leave at least three days in between each five-hour class to allow for rest and independent practice sessions.
How soon do I need to book a class?
These classes are popular, and I am also busy with treatment appointments, so I generally run only one five-hour class daily. If you have specific dates, booking at least two weeks in advance is best.
Immediate bookings supplement cost
If you make an enquiry and want to book a class within seven days, an extra 10% charge will be made if I can accommodate you.
Splitting the classes
Can I take the Foundation class and then return later and take the Intermediate or Professional training without repeating the Foundations class?
Yes, The Foundation Class can be followed by a further 5 hours of Intermediate training or 10 hours of Professional training; however, the cost is more being split classes.
Sharing the training with others
All prices are quoted for one person taking a class.  If two people are taking the course together, 50% is added.
---
20-Hour Professional Training Costs & Options 
Prices are all-inclusive of the Foundation class, Intermediate class & Professional training.
---
Option 1 – Four female volunteers + your massage – £1900
Practising on four different female volunteers in six practice sessions with your massage to follow after given by Colin 
Session 1 = one female volunteer in two practice massages

Session 2 = one female volunteer in two practice massage

Session 3 = one female volunteer in one practice massage + massage for yourself

Session, 4 = business set up session followed by one female volunteer in one practice massage
---
Option 2 – Five different female volunteers – £2000
Practising on five different female volunteers in seven practice sessions (this does not include a massage for yourself)
Session 1 = one female volunteer in two practice massages

Session 2 = one female volunteer in two practice massages

Session 3 = two female volunteers in two separate practice massages

Session, 4 = business, set up session followed by one female volunteer in one practice massage
---
Option 3 – Six 

different

 female volunteers – £2250
Practising on six different female volunteers in seven practice sessions (this does not include a massage for yourself)
Session 1 = one female volunteer in two practice massages

Session 2 = two female volunteers in two separate practice massages

Session 3 = two female volunteers, x two separate practice massage

Session, 4 = business set up session followed by one female volunteer in one practice massage
---
Add On
Receive a massage for yourself can be added to sessions two or three
You can select an additional 75-minute sensual massage for yourself given by Colin – £100 (reduced from £210 to be booked in advance.)
---
Deposit & terms
Whichever class you book, a 50% deposit is required upon booking. The balance is due 24 hours before the first class starts.
You must pay a 50% deposit on booking. The balance of payment is due the day before your class starts. You can cancel up to three days ( 72 hours ) before the first training day and have these two options.
To receive back the full deposit.

Transfer the class to another date.
Loss of deposit
If you cancel within three to two days of your booked class, you must either re-book another class date or lose your deposit.
24-hour cancellations or no show
If you cancel within 24 hours of the start time or do not show up on the day, you will lose your deposit.
Take out cancellation insurance.
To cover any cancellation, we recommend you seek a cancellation insurance policy.
Payment Plans
I like to make sensual massage accessible for everyone, but I sometimes realise that even though the desire is strong, the cash flow situation may not allow you to take an appointment or workshop with me when you want to.
Buy Now Pay Later
Take six weeks to pay for the class of your choice.
Spread training and payment over six months.
To help, I offer instalment plans that enable you to spread your payments over six months. For more details [Click here]
---
The Female Massage Practice Receivers
---

I currently have about 240 women on my volunteer receivers list. Almost all professional women have been to see me as a client or have received a demonstration massage from me and then decided to volunteer. They are aged between 21 and 55 and can be of any ethnicity or physique, from slim to curvy. All are very comfortable with other sexuality and are eager to help men learn more about sensual foreplay and the erotic arousal of women.
When I have a class booked a couple of days before the class, I send out a request to those on the list giving basic details of the student whom I require a receiver for. I send them your image, your name ( it can be a pseudonym) and basic information about you ( profession, age, sexuality) and your motivation for taking the class.
If a student selects to have a volunteer from this list as their receiver rather than bring their own, I try to match the student's desired type as stated on their application form. However, age and body type are never guaranteed, as much depends on who is available on the day.  Generally, the women on this volunteer list are happy to receive clitoral and vaginal arousal and body-to-body contact within the massage; however, receiving oral stimulation or giving any reciprocal touch back to the students is their decision on the day.
---

---
Testimonials from past students taking a Massage My Woman Class
From Luis October 2023
Did the massage My Woman Foundation and Intermediate course with Colin over two separate weekends. I was a little nervous at before I went to first lesson but was immediately put at ease by Colin once I arrived at his place. The training itself was great. Colin passes on his knowledge and you get "hands on" practice on some lovely volunteers. I would advise any man who loves his woman to do this course. It is amazing.
From Ash July 2023
Colin is a master of the field. He has a keen sense of psychology around sexuality, and is also incredibly well-versed in the anthropology and evolutionary biology of sex. Combine this with decades of experience and satisfied clients means Colin's workshops are a one of a kind wealth of knowledge in the art of sensual touch. Above all, Colin is very respectful, professional, and working with the volunteers alongside Colin has been a very enriching experience! (I took the MMW Foundation Class)
From Simon April 2023
Truly an amazing and enlightening experience, Colin's wealth of knowledge and experience provided me with an in-depth insight into giving female pleasure. Was a very eye-opening experience and I learnt techniques that can extend beyond massage. Would highly recommend! Colin
From Jools March 2019
Now practising as Sensual Bodyworks in Leicester
I've recently taken part in a private 20 hour sensual massage course with Colin of Intimacy Matters. Colin clearly has a lot of knowledge and experience in the field of sensual massage as well as other psychosensual treatments so was an obvious choice to train with. He is very professional but also operates relaxedly, putting everyone at ease, making for enjoyable training sessions and easy learning. The training sessions took place at Colin's Battersea treatment room, which is worth a visit for the views alone. The 20 hours was taken as 4 x 5 hours sessions over a 3 week period which worked well, allowing me to digest what I had learned each time and practice elsewhere before coming back for the next session. There was a combination of demonstration massage, 4-hand massages with Colin, 2-hand massage with Colin giving advice and guiding and finally 2-hand massage with Colin providing feedback. I believe the training was invaluable and would recommend it to anyone considering offering sensual massage to their partner or professionally. I'd like to thank Colin and all the volunteers who so generously gave their time"
From Daniel June 2017
I attended a half-day course with Colin. From the outset, he put me at ease and was extremely generous with his knowledge throughout the session.  I particularly liked how he encouraged me to develop my skills using different stokes, and how I could integrate new skills into my existing routine.  I would really recommend this workshop for masseurs wanting to take their skills to the next level and to learn some really exciting sensual techniques.
---
TERMS & CONDITIONS & INSURANCE
Colin Richards and Intimacy Matters have current Civil Liability Insurance (including Public/Products Liability and Professional Indemnity) that covers counselling services and therapeutic and sensual massage.  Clients taking a sensual massage, a psychosenual massage or any form of sensual treatment or sensual massage classes that involves nudity, arousal, and erotic stimulation do so at their own risk. They will be asked to sign a waiver before taking the treatment. To read the full terms & conditions and insurance coverage, Click here