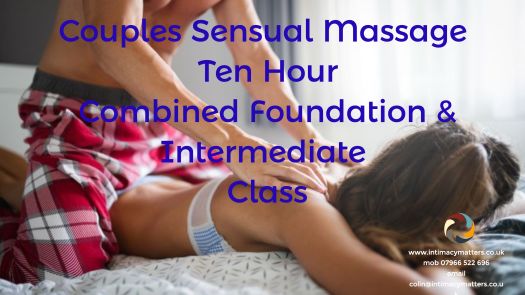 Couples Ten Hour Combined Foundation & Intermediate Class
---
Explore, arouse and prolong the pleasure!
A 10-hour class can be split into 2 x 5-hour periods on separate days.
This workshop is ideal for couples who want to learn in detail how to give a sensual massage and explore both the psychology and physiology of arousal and better sexual performance. This class starts with the 5-hour foundation and is followed by the 5 hours intermediate class, adding more techniques and practice sessions.
Version 1 – Private workshop –  This version is for couples who only want to practice on one another with very focused instruction enhancing foreplay skills, genital arousal and sexual performance. It can be tailored to the couple's specific curiosities and desires. Colin teaches to both males and females, with each couple following as he teaches.
Version 2 – Workshop with volunteer receivers – In this version, couples practice on each other in the Foundation sessions as in option 1 for the first 5 hours session.  In the second session of 5 hours ( Intermediate ), practice can be given to male or female (or both) volunteer receivers.
When practice is given on the receivers, this can be given as a tandem with the couple practising on two massage beds side by side or as a 4 hands with the couple giving together to each volunteer one after the other. What gender of volunteer receiver the couple practice on is up to them.
Specific teaching of:-
For her receiving
An overview of the primal female sexual dynamic and why erotic massage is both pleasurable and healthy
Relaxing her mind and body to bring on arousal
Therapeutic massage routine
Teasing touch to stimulate
Various styles of clitoral stimulation and positions
G spot and external and internal  vaginal massage
Body-to-body techniques
Encouraging multiple orgasms
Assertive arousal techniques
G spot and vaginal massage
Body-to-body techniques
Light BDSM
Encouraging ejaculation and multiple orgasms
Oral techniques
Incorporating sex toys
Creative positions for penetrative sex
For him receiving
Stimulating his mind and playing with his arousal
Understanding that males need to be approved of
Massaging with upper body
Full Body-to-body techniques
Edging techniques to keep him waiting
Masturbation styles
External anal touch
Bringing him to an explosive orgasm
Masturbation styles
Prostate massage (optional)
Oral techniques
Edging and prolonging ejaculation & edging
Incorporating Sex toys
Using a strap-on on him ( optional )
Prices and options
The prices below are for classes taken on weekday evenings 5 pm to 10 pm or Saturdays.
If classes are booked for weekdays between 10 am and 5 pm, there is a 10% additional cost.
Option 1 – Practising on one another only – £1000
Option 2 – Practicing on one another and on two male or female volunteers £1300
Option 3 – Practising on four male volunteers only – £1500
Option 4 – Practising on four female volunteers only – £1600
Option 4 – Practising on a combination of 4 male and female volunteers – £2000
Click here to apply for a couple's training
Buy Now Pay Later  – Take six weeks to pay for the treatment of your choice.
Tailor your workshop to your own desires.
All the above couples workshops can be tailor-made to your specific requirements. Just ask!
These couples workshops can also be run for same-sex couples with volunteers of your gender choice
When and where can I take a class?
Classes are usually held at the Intimacy Matters venue in Chelsea. But for couples, they can be held at home or a hotel, but there are additional costs involved.
Classes can be run on weekdays from 9 am to 10 pm or on Saturdays 10 am to 6 pm.
Deposit & terms of payment on all class and training bookings
Whichever class you book a 50% deposit is required on booking, with the balance paid on the first day of the class. Payment can be made by cash, visa, debit, Paypal or bank transfer.
Cancellation of class 
You must pay a 50% deposit on booking any of the above sensual massage classes. The balance of payment is due on the first day of the class. You can cancel up to three days ( 72 hours ) before the class and have these options.
To receive back the full deposit.
Transfer the class to another date.
If cancelled within three days, you must either re-book another class date or lose your deposit. Do show up, you will lose your deposit and be expected to pay the total class cost.
Take out cancellation insurance.
To cover any cancellation, we recommend you seek a cancellation insurance policy For example.
TERMS & CONDITIONS & INSURANCE 
Colin Richards and Intimacy Matters has current Civil Liability Insurance (including Public/Products Liability and Professional Indemnity) covering counselling services and therapeutic massage.  Clients taking a sensual massage, a psychosensual massage or any form of sensual treatment or sensual massage classes that involves nudity, arousal, and erotic stimulation do so at their own risk and will be asked to sign a waiver before taking the treatment. To read the full terms & conditions and insurance cover Click here