Not quite the wild hedonistic performance regular sex partygoers may be hoping for. Still, it's good to see mainstream play write and theatre attempt to normalise what is fast becoming the playground for post-offspring couples seeking to spice up their sex lives. It plays safe with a somewhat predictable dialogue but also discusses broader sexuality and gender orientation.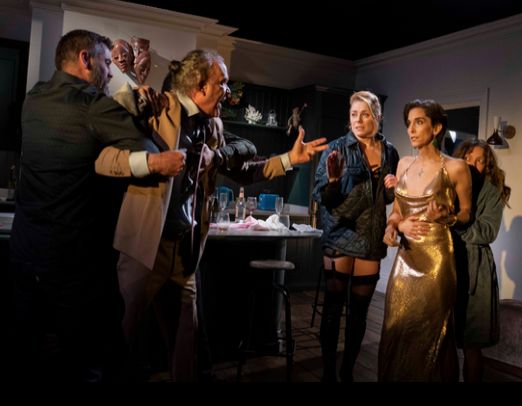 Four couples gather in a suburban London home for an evening of wine, cheese, and more intimate pleasures. Some are curious, some are more familiar, and one is rather unexpected. Thus a promising evening is poised to go beyond anyone's expectations…
The world première of this play by Terry Johnson similarly promises to surprise, perhaps shock, and most certainly entertain!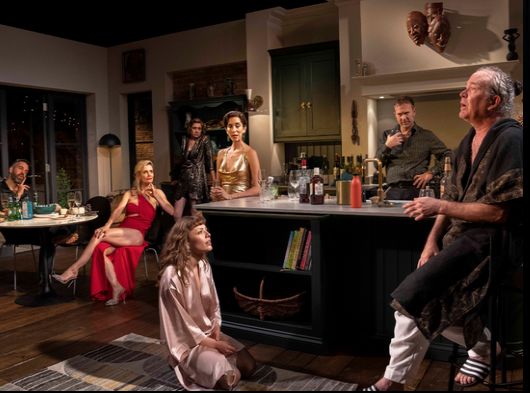 'The Sex Party' is about a sex party, specifically, one thrown by suave middle-aged Islington-dweller Alex (Jason Merrells) and his bubbly young girlfriend Hetty (Molly Osborne). In attendance are his brittle old flame Gilly (Lisa Dwan) and her dull husband Jake (John Hopkins), plus preposterous cartoon Russian Magdalena (Amanda Ryan) and her awful older American boyfriend Jeff (Timothy Hutton), and finally, the vituperatively right-on Camilla (Kelly Price) and her dopey, drug-addled partner Tim (Will Barton).
Now playing at the Menier Chocolate Factory in Southwark Central London and running until January 7th