Have your portrait painted.
Make your journey of sensual exploration even more memorable by having yourself, with or without your attire, made into a stunning portrait. Recently  I met Andi Theokle, a superb artist based in Swindon Wiltshire, UK.  Andi specialises in sensual and erotic art, and she is now available to Intimacy Matters Clients for the opportunity to have a unique portrait painted. Whether to hang anonymously in pride of place in your living room, seductively over your bed, or even like the picture of Dorian Grey, keep it tucked away for special viewings and posterity; a portrait painted by Andi can mark an extraordinary moment in your intimate life.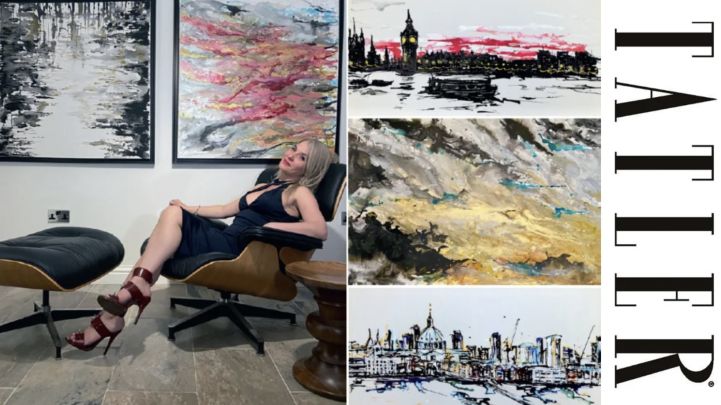 Hi, I`m Androulla Theokle or simply Andi, an international artist based in London, Wiltshire and Europe.  I am of Greek Cypriot origin and I have worked in private and public collections in Paris, New York, Dubai, Hong Kong, Toronto and Belgrade. I have showcased my work throughout the UK and abroad at galleries and shows. I am an international award-winning interior designer who worked in the design industry for 22 years based out of London, where I worked with blue-chip clients and high-profile personalities to create iconic interiors for offices and hospitality alike. Alongside my design career, I have been an artist for 30 years and feel very blessed to be focusing purely on my art now. My work is diverse in style and subject matter as I enjoy pushing myself with each collection, discovering something new and constantly developing throughout my collections.  This encompasses my ink work, applied in various ways all the way through to my acrylic and oil paintings.  My focus is on nature, architecture and the human form. I draw inspiration from my travels around the world and continue to explore in order to evoke emotions in the viewer, you.
​Art is of course nothing without an opinion, a feeling or a reaction.
Andi x
https://www.anditheokle.com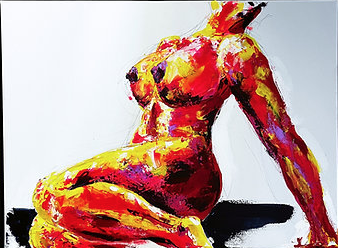 Whether it's a lady in her sexy lingerie, a couple giving a sensual massage, or a gentleman giving his partner a sensual massage, Andi can work her magic with any scene, you would like to have painted for posterity. Andi works from photographic images, which can be taken at a photo session with Andi, or you can take images yourself and send to Andi, who will then talk with you to agree on the painting's style, colour and size. Usual size portraits are 65cm x 90cm and painted with Oil/Acrylic on canvas unframed – £1500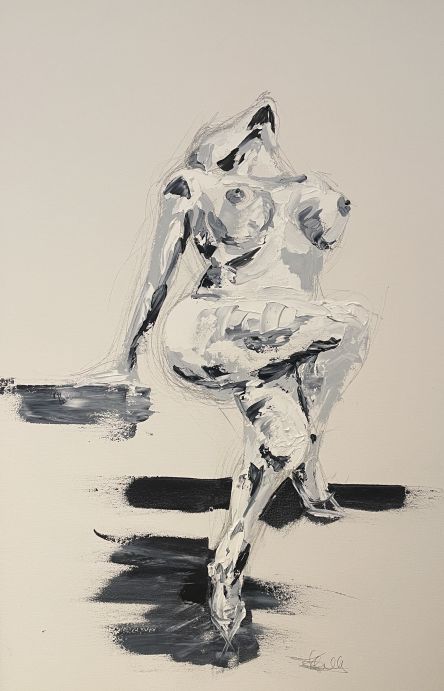 Make an occasion of it
Portrait Prosecco & Pleasure – 3.5 hours
Andi will meet you at the Intimacy Matters house in Chelsea, where Colin will greet you with prosecco or fine wine and fresh French pastries from the local and now-famous Briely Bakery. Andi will discuss your portrait, and then there will be a90 minute photographic session with Andi getting the style and pose you would like. This may be reclining in a chair, lying on a sofa or possibly a massage bed with one giving to the other. Andi will depart and begin your painting immediately. You can visit her studio to collect it, or she can deliver it. Once the photography is finished, you then if a single person enjoy a 90-minute sensual massage given by Colin or if a couple of Colin and a female or male maseur if a couples Tandem massage
Cost
Single person £350 ( female Absolute 90-minute massage or Premium male massage )
Couples from £550 – £750 ( depending on which couples massage you take, Platinum or Titanium )
Photographic Session Only – 1.5 hours
Andi will meet you at the Intimacy Matters venue, take the photographic session, and then discuss the painting details. Cost £150
Take the images yourself.
Or you prefer, you can take the images in the comfort of your home or maybe at a party or event, take your pictures and send them to Adni, who will then speak to you on the phone to discuss details. No fee apart from the cost of painting