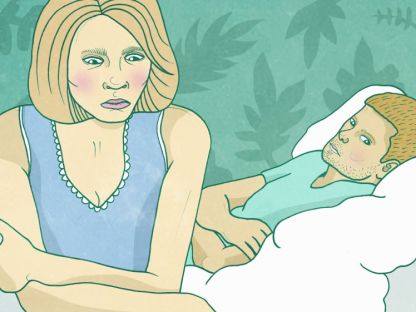 Vaginismus – Colin featured in METRO article
Vaginismus – Don't suffer in silence.
If you have never heard of vaginismus, it's time to get it on your radar. Aly Dilks, sexual health expert and clinical director at The Women's Health Clinic, says: 'It is the term used to describe recurrent or persistent involuntary tightening of muscles around the vagina whenever penetration is attempted,' 14 things I wish I'd known before losing my virginity According to Vaginismus Awareness, the condition affects at least two in every 1,000 women at some point in their lifetime. Approximately 10% of adult women have experienced painful intercourse in the past six months. 'It's not fully understood why the condition happens [but] factors can include thinking the vagina is too small, negative sexual thoughts – thinking sex will be painful and cause damage – and previous sexual abuse,' says Ms Dilks. She also lists damage to the vagina – common during childbirth or an episiotomy, a painful first sexual experience, relationship problems, and fear of pregnancy as other potential triggers.
Pain is not limited to sex. Some women find inserting tampons or fingers painful; others find any type of penetration intolerable. Unlike other causes of vaginal pain, such as an infection, vaginismus is a psychological problem that cannot be cured with a straightforward prescription. There's effective treatment Help is available beyond search engine suggestions. This is not to say it can't be treated: Vaginismus Awareness reports a 95% chance of treating this psychological condition effectively, and many women receive referrals to a sex therapist as a first port of call.
Colin Richards is a relationship and sex mentor and the founder of Intimacy Matters. He says: 'As a practitioner who works with both the psychological and physiological, about 20% of female clients that come to me for treatment around sexual performance come with some level of vaginismus. 'The psycho-sensual treatment I offer involves talking through the psychological influences, followed by sensual massage that is given in controlled, professional space. 'It allows the new emotional tools to emerge in an authentic, non-judgemental way.' Both Ms Dilks and Mr Richards also suggest vaginal trainers: four, smooth, plastic penis-shaped objects in different sizes. They can be used in the privacy of your own home, at your own pace. Ms Dilks says: 'Once you feel comfortable inserting the smallest one, you can move on to the second size, and so on.' 'It doesn't matter how long it takes – whether it's days, weeks, or months.' Vaginismus is just one of many types of sexual frustrations and fears women face but, says Mr Richards, it is probably the most challenging for the sufferer.
That challenge is perpetuated by a lack of awareness and the taboo that still surrounds female sexuality, even when women talk to one another. Yet it can have major implications on a woman's sex life, self-esteem, body image and her relationships. Hope for sufferers Women can be reluctant to talk about their sex life, even with other women (Picture: Ella Byworth for Metro.co.uk) If you have pain during sex, during your period, or if there's anything that concerns you about your sexual health, don't suffer in silence; women have been doing that for too long, and vaginismus is something for which there is a proven treatment.
Mr Richards says: 'In my experience, if one can get to the root psychological cause of the anxiety or fear, then the vaginismus can be removed completely. 'I have seen improvement over a period of three to six appointments. 'As the mind learns that sexual penetration is not painful or wrong, and is, in fact, pleasurable, the body soon responds and lets go of the need to tense up. '[The woman] remains calm, and feels familiar with the situation, and so confident that everything should be fine.'
Read the original article in Metro via this link [Click Here]
https://www.intimacymatters.co.uk/images/pri_67079203.jpg
312
416
Colin
https://www.intimacymatters.co.uk/images/Intimacy-Matters-Logo-300x215.png
Colin
2018-02-03 21:27:36
2018-02-03 21:56:37
Vaginismus – Colin featured in METRO article