Colin Richards,
Sex Engineer, Sensual Masseur & Relationship Therapist
Since 2005  I have been committed to my mission of teaching people how to achieve sensual intimacy, better communication and erotic fulfilment within relationships. I am passionate about this subject. My treatments and expertise are open and accessible to all. I work with men, women and couples from all ethnicities, backgrounds, cultures, sexual orientations and ages.
Amongst my services, I:
run interactive workshops on sex and sexuality
mentor single men, women and couples on how to improve intimacy and sexual performance
provide face to face or Skype mentoring
give sensual massage treatments to private clients as individual appointments
The evolution of my career as a sex and relationship mentor
I have always been fascinated by human behaviour and the issues behind people's actions. My parents owned the Gara Rock Hotel in Salcombe, South Devon and I grew up there. From a young age, I interacted with a wide variety of people, from guests, suppliers, parents and from a young age, observing the hotel industry, it was a little like Fawlty Towers on a larger scale. I took over as Managing Director after my parent's retirement. I was well equipped for the role having experienced all aspects of how to run the business. At various times up to my 42nd birthday as Managing Director I took on multiple different roles including kitchen porter, entertainment host, relief chef, barman, waiter and receptionist, trainer and even in the closed winter months, plumber and decorator. In short, my interpersonal skills and ability to relate to people is second nature. I can give newcomers to Intimacy Matters a very warm welcome and put them at ease in this unfamiliar situation.
In 2002, I left the hospitality industry and tried to take on a conventional 9 – 5 job. I quickly discovered that working for someone else was not for me. I embarked on a field of study which has become a lifelong passion. I trained as a life coach and therapeutic masseur at The Association of Natural Medicine in Totnes Devon and then undertook a 2-year training in Psychosexual and Relationship Therapy in Regents College London. Further training included a certificated Imago Educator and foundation training in NLP and Hypnotherapy. Armed with my certificates, I knew that I could pursue a career which enabled me to help people and make use of my innate combination of unique skills.
I moved to London in 2005 and began working as a Sensual Massage Therapist and Sexual Performance and Relationship Mentor. I immediately became aware that a significant number of men and women needed discreet, practical support and guidance in their sex lives. These revelations led me to start up both Singles and Couples Therapy.
My business expanded rapidly solely on the strength of recommendations by satisfied clients. Since 2001, 6,000 men and women have used my services. Furthermore, the past decade has been extremely rewarding for me on a personal and professional basis. In addition to providing high-quality services, I've gained profound insight and understanding about a range of psycho-sexual issues.
Several themes emerged: the complexities of creating intimacy, building fulfilling relationships and the impact of touch in our daily lives. I noticed that many of my clients were struggling with feeling isolated or frustrated. Others grappled with self-inflicted criticism, judgmental or ignorant attitudes cultivated in early childhood. I was touched by my client's stories and wanted to find meaningful strategies to help them.
I decided that my approach to teaching alternative sexual education would have to be down to earth, straightforward and open. I am an educator, teacher and mentor on sexual issues. I've created a discreet and welcoming environment which affords people the opportunity to discuss their psycho-sexual concerns and also receive the practical tools to tap into their inner sensuality.
I'm a versatile trainer and teacher. My experience is based on anecdotal evidence, personal insights and academic study. I share my message in a variety of forums: as a massage therapist, a sex mentor or consultant or when I'm a speaker at an event or leading a special interest workshop.
I live and work in my riverside apartment in Pimlico, Central London but I am also available to travel in the UK and abroad to see clients and run workshops.
I am the host 'Intimacy Matters Presents' a members and guest event I have held at Home House London's premier private members club in Marylebone.
I am the appointed Sex Mentor for Adult Lifestyle Club Killing Kittens
I have been featured in national media in Cosmopolitan, Daily Mirror, I-News, The Times, The Independent and Reveal magazine.
I give regular public talks on topics about sex and relationships with Funzing.
My personal background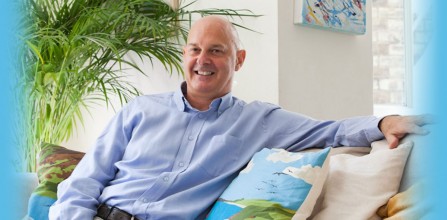 I have 5 adult children (two sons and three daughters) from my 17-year marriage. I am now in a long-term relationship with my female partner.
We're an outgoing and sociable couple who enjoy attending gatherings, talks, restaurants and the theatre. I am health conscious and maintain an active lifestyle by swimming regularly, playing tennis, squash as well as skiing.
Listen 
To broadcaster Jackie Walker as she talks to Colin about massage & sensuality
Click on the links below to listen to Colin's Radio interview:
Part 1 – [Interview with Colin]
Part 2 – [What women need to know]
Part 3 – [Emotional Release]
Read
The Making of a Maverick: The Birth of a Sex Mentor – Interview with Sex & Relationship Journalist Chrissy Rowell
Interview with Colin by renowned US Sex Blogger C J Asher
Training & Qualifications
Testimonials