Intimacy Matters
No matter what life decides to chuck at us over the next twelve months, I for one intend to make the most of 2022. All be it sensibly and in moderation!
Firstly I am now fully open and seeing clients again for treatments and private classes.
Secondly, I am excited to announce the dates of the next three Dinner & Decadence evenings.
Thirdly the much requested return of the Sensual Massage Group Workshops.
Fourthly, for those not able to come to London or the UK in I am starting a monthly FREE 90 minute (group) Zoom Advice Surgery. The first Saturday Surgery is on 15th January at 5pm GMT. To book your pace and to request the Zoom link email colin@intimacymatters.co.uk
---
Special January Rates
If the current times are challenging for you and you need a pick me up then come to Chelsea for a sensual massage. Available All of january
For Women – 75 minute Special Absolute Massage – £150
For Men – 60 minute Special Premium Massage reduced from – £125
For Couples – Couples Special Massage, all treatments 25% off
When booking quoteJANUARY SPECIAL and the type of massage shown above To book your special massage – Click here
All other treatments …..
Please note – I am fully vaccinated and boosted and take regular lateral flow tests
---
Buy a Gift Voucher
Stuck for a gift to give or want a partner or friend to experience sensual massage treatment or class  then why not give and Intimacy Matters Gift Voucher
I have available vouchers worth £25 £50 & £100 that can be put against any treatment or class taken in 2022. Valid for 12 months.
To buy a voucher – Click here
Treatments you can give as a gift
---
---
Dinner & Decadence Parties 2022
Couples & Singles Parties
No Pressure Just Pleasure
Dates for 2022 now released and tickets available
"It was a fun evening. Everyone was welcoming. The restaurant was beautiful and the food was amazing. The hosts organised a great event. It was exceptional. Highly recommended"
At a D & D evening we strive to give guests an environment where both the newly exploring and the experienced adult party goer can feel welcome and be able to enjoy themselves to the level they want, without pressure or judgement.
To view all the party dates Click here
_______________________________________________________________________
Sensual Massage Group Workshops 2022
Group workshops for men, women and couples
Learn the art of giving sensual massage to enhance foreplay and re vitalise your love making skills. Learn a sensual massage routine that incorporates imaginative sex play techniques for partner(s) to experience extended pleasure.
These group workshops are divided into two levels the Foundation level and the Intermediate level. Single person workshops include practical sessions giving sensual massage to specially selected volunteer receivers. Couples workshops the couples practice on one another.
To view the group workshops calendar Click here
---
FREE – Zoom Saturday Surgery with Colin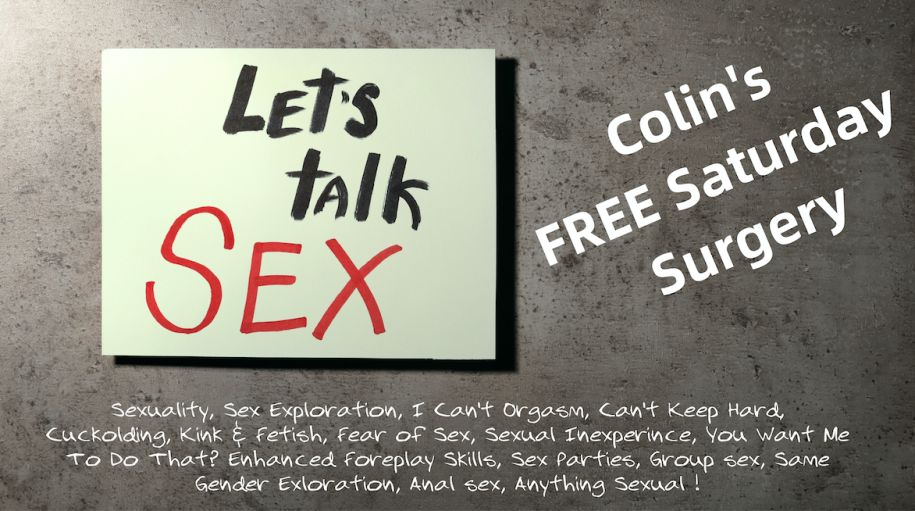 I often receive texts, call and chats from people who live abroad who want to come to see me to receive help and advice of a sexuality or relationships issue. For these people I can offer on line support either just chat or as a demonstration class. However as a first step I am now offering a once a month FREE ZOOM SURGERY when anyone can ask me a question and I will do my best to answer as helpfully as I can or refer you on to someone I believe can help. You can ask a question or just sit and listen either way I am certain you will find this 90 minute FREE surgery interesting and helpful.
The first Saturday Surgery is on 15th January at 5pm GMT. To book your place and to request the Zoom link email colin@intimacymatters.co.uk