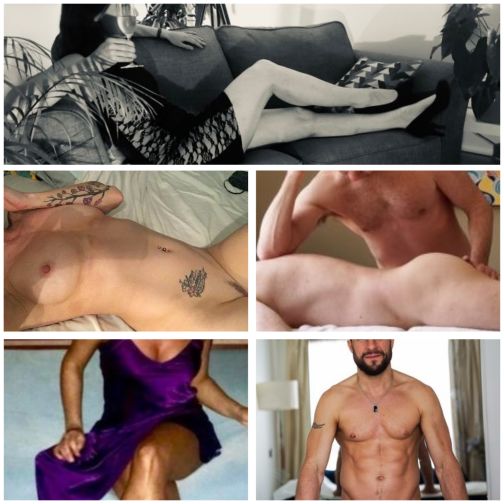 Listed below are the recommended associate masseurs that often work with Colin when giving Four Hands massage to single men or women, and the Tandem massage for couples or sometimes act as volunteer receivers for private workshops. Each masseur has been personally trained and is recommended by Colin.
Booking a second masseur
If you decide to book a massage that requires a second female or male masseur you are welcome to look below and select the one best suited to you. All the masseurs including Colin are comfortable to give erotic massage to both men and women and if you are the same gender and want to include intimate touch of the masseurs then make this known when booking. Availability of the associate masseurs can not be guaranteed as some work full time as professional executives and give sensual massage on a part-time basis only. It is always best to book in advance so that both Colin and your chosen masseur can be available.
Tio views the options and prices for Four Hands & Tandem Massage go to the respective page link below. However, prices can vary dependent on the level of eroticism wanted. See the Intimacy Score below and note that massages that require  masseur who scores 4 may charge a premium to the prices displayed.
Tandem Massage & Four Hands For Couples
Intimacy Score
By each masseur are numbering 1 to 4 that indicates to what level of erotic intimacy they are comfortable to receive while giving the massage. All massages include nudity, body to body contact and erotic arousal to orgasm of the receiver.
1= Sensual – Comfortable to receive surface of body touch only.
2 = Standard Erotic – Comfortable to receive erotic arousal to orgasm by hand.
3 = Premium Erotic – Comfortable to receive erotic arousal to orgasm by hand and orally.
4 = Super Erotic – Comfortable to receive erotic arousal to orgasm by hand, orally and will consider penetrative intercourse (with condom). In the case of female masseurs, the cost of level 4 may be different depending on which female masseur you select. and their connection to you.
Levels 3 & 4 are better considered by the masseur if you provide details about yourself ie body statistics, age and pictures additionally they are sometimes offered only at a second appointment and is always at the discretion of the masseur.
Female Masseurs
---
Anastasia
Age 34yrs
Sexuality – Heteroflexible
Dress – Size 8
Figure Toned and Slender
Intimacy score 1 , 2, 3 possibly 4
Anastasia is 34 years old she is sophisticated and elegant. Anastasia is a professional businesswoman who also enjoys giving erotic exploration. Her main profession bars her from showing her full identity but I can guarantee that Anastasia offers the ultimate meaningful erotic experience. Her body is lithe, her sexual energy is profound and her passion is to give pleasure in a most real and tantalising way. The images above are of Anastasia but for confidentiality reasons, Anastasia is unable to reveal her identity.
---
Lena
Age 32yrs
Sexuality – Bisexual
Dress – Size 10
Figure – Toned tall and slender
Intimacy score  – 1, 2, 3 possibly 4
Lena is 32 years old, she attended a sensual massage training with Colin and is now keen to incorporate sensual massage into her busy work life. Lena has limited availability since she works as an executive in both London and in Europe. Lena is degree educated and has a confident open-minded perspective on life. Lena has a deep appreciation of human sexuality and enjoys the giving as much as the receiving.
---
Emilie
Age 29yrs
Sexuality – Bisexual
Dress – Size 8-10
Figure – Toned and Slender
Intimacy score  – 1, 2, 3
Emilie has trained as both sports masseur and sensual masseur. She is 29 years old and has been working full time as a body therapist for five years so if you select Emilie you are certain to receive excellent muscle work combined with sensual and erotic touch. Emily keeps herself extremely fit and is proud to have a very toned body. Emilie is British.
---
Male Masseurs
---
Jamie
Age 43yrs
Sexuality – Bisexual
Body – 83kg 180cm
Figure – Toned and fit
Endowment – Large
Intimacy score  – 1 to 4 both men and women

Jamie is British from London. He is 43 years old and lives and works in the city. He likes to keep fit by practising yoga and doing martial arts. He uses his experience of these disciplines to bring strength and precision to his massage so that he can create for you an intense yet calming and highly sensual and intimate experience. He loves to bring a deep sensuality and intimacy to your massage experience. Jamie is comfortable giving erotic massage to men and women.
---
Mack
Age 35 yrs
Sexuality – Bisexual
Body – 78kg 170cm
Figure – Very toned and fit
Endowment – Medium to large
Intimacy score  – 1 to 4 women, 1 to 3 men
Mack is a professional masseur. Originally trained by Colin  Mack has been working in the fitness industry for many years.  Mack is South African born and has lived in London for 8 years. Mack has careers in theatre and personal training.
Mack says "I take great care to ensure that your welfare and pleasure are paramount; I believe that it is imperative to build trust and connection before intimate touch can happen. I like to eat well and stay in shape and so I am able to bring strength and confidence to the massage, together with the arousing touch. Intimate massage comes naturally to me and a big part of my enjoyment is in the pleasure I give to you" Mack gives sensual massage to both men and women.